Something We All Seem to Agree On: Campaign Finance Reform
We discuss Pennsylvania voters' opinions of campaign finance reform, using data from our August 2023 poll.
Dear Readers,
This month we review some data about campaign finance reform that was included in our August poll. Despite the many attitudinal and policy differences that exist between partisans, our polling data has regularly shown that voters of all kinds support many of the ideas about political reform we ask about in our polls.
Be on the lookout for the results of our next statewide poll, which we expect to release on October 26, 2023.
Thank you for reading,
Berwood Yost
There is an endless stream of stories about our country's angry polarization, deep division, and the underlying causes of our political anger and divisiveness. As a widely reported study from the Pew Research Center put it, "Majorities say the political process is dominated by special interests, flooded with campaign cash and mired in partisan warfare. Elected officials are widely viewed as self-serving and ineffective."
There is increased discontent with our politics and politicians in Pennsylvania as well. Perhaps the best example comes from our data on the state's most important problem. The most important problem question is open-ended, which allows registered voters to say anything they want. The trend line for our most important problem question going back 20 years shows how concerns about government and politicians (the black line) has become a more frequent top-of-mind concern compared to perennial concern about the economy (the gray line), for example.[1]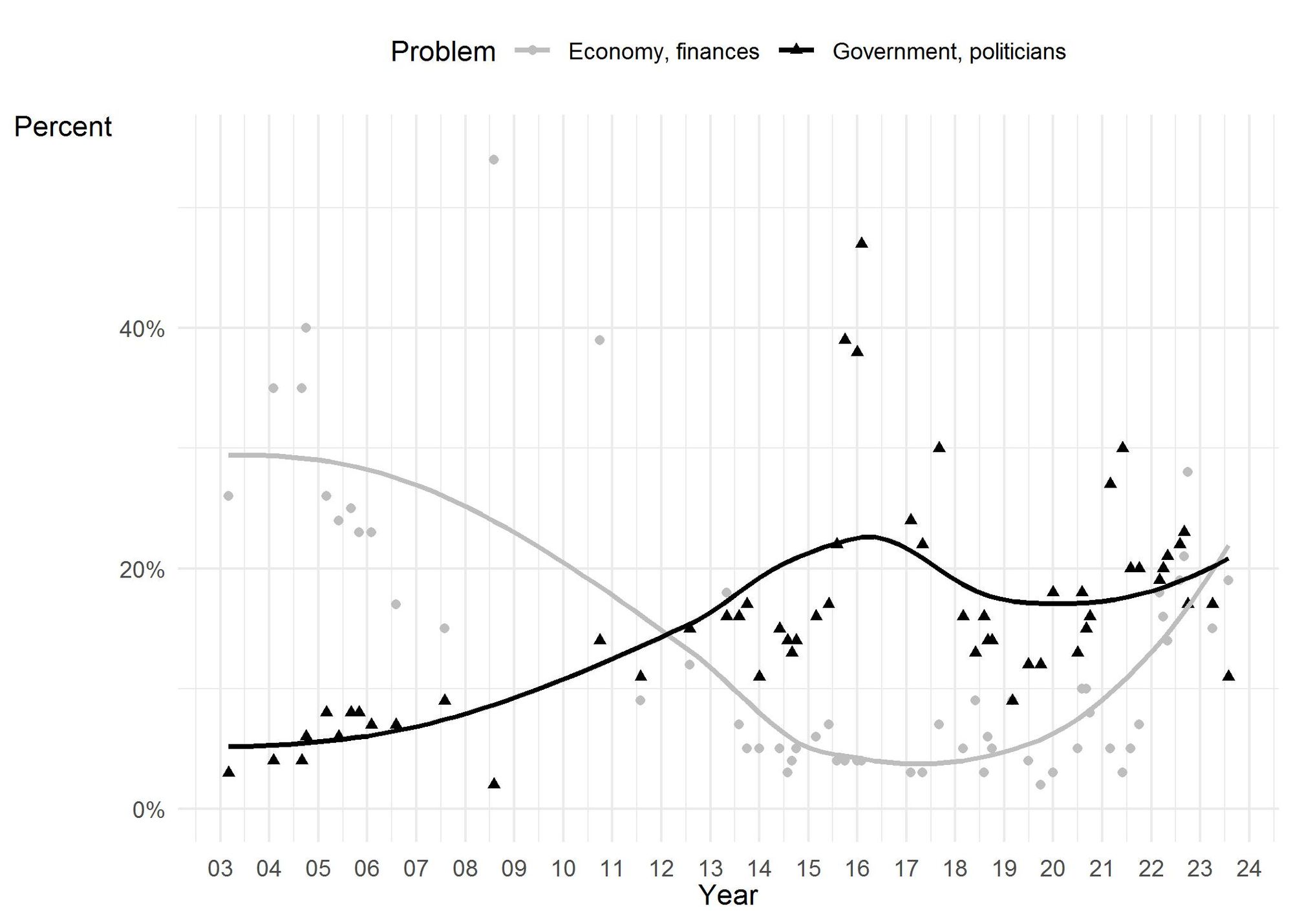 No one should be surprised by these responses. Most political media coverage and related social media commentary tends to focus on governmental failures or on the deeply flawed character of those elected officials who represent us, particularly those unpatriotic deviants in the "other" party. Tiresome as these stories have become, divisive storytelling about our political system might actually create an opportunity because there is mountainous support for reforming the system we all seem to hate. If anything unites us, it is our collective hatred of our politics and our politicians and our collective sense that we need to change the way the political system functions.
The proof of this common desire for change consistently appears in bipartisan support for political reform measures that change how elections are run. This is not to discount the strong partisan differences that currently exist for some reform proposals, such as those about who gets to vote and how those votes get counted, but it is instead a reminder that there is a lot of support to change our calcified election processes, particularly those related to running for office. In the past few years our surveys have shown that bipartisan majorities support term limits for state legislators, reforming the way campaigns are financed, changing how and by whom electoral districts are created, and rethinking primary campaign procedures.
Our August 2023 survey explored what most view as the root cause of our political problems: the money that flows into campaigns. More than three in four (77%) registered voters in our survey "strongly agreed" that the influence of money in politics is a threat to democracy, and this strong agreement is expressed by more than seven in ten Republicans, Democrats, and Independents alike! Accordingly, these same large majorities in each party support limiting the amounts that individual donors can contribute to political campaigns and support a constitutional amendment on campaign spending (see Table 1).
Table 1. Support for Campaign Finance Reform Measures, Pennsylvania Registered Voters
| | | | | |
| --- | --- | --- | --- | --- |
| Question | Republican | Democrat | Independent | Total |
| "Strongly agrees" that money in politics is a threat to democracy [2] | 71% | 82% | 77% | 77% |
| "Favors" limiting amount of money individuals and entities can contribute to political campaigns[3] | 77% | 91% | 85% | 84% |
| "Favors" limiting campaign spending[4] | 71% | 89% | 80% | 81% |
Source: August 2023 Franklin & Marshall College Poll
The populism evident on both the right and the left has emerged from a deep well of dissatisfaction that springs from voters' perceptions that their government barely functions. Voters understand that the way we elect our political leaders, particularly the money that flows to their campaigns and the processes those leaders prop up that maintain the status quo, plays some role in this dysfunction. Perhaps sometime soon a talented political leader will emerge who can harness these feelings and drive fundamental changes to our electoral processes that make our democracy stronger.
---
[1] There was a break in the most important problem question series during 2008 and 2009. The data presented for 2008 asks about the most important problem facing the respondent, not the state.
[2] The question asked, "Do you agree or disagree with the following statement: The influence of money in politics is a threat to our democracy?"
[3] The entire question read, "Which one of the following two positions on campaign financing do you favor more: 1) limiting the amount of money individuals and entities can contribute to political campaigns, or 2) allowing individuals and entities to contribute as much money to political campaigns as they'd like?"
[4] The full question is, "The Supreme Court ruled in 2010 that limiting independent political spending violates the constitution, which means a constitutional amendment is necessary to establish rules that regulate and limit that type of political spending. Would you favor or oppose a constitutional amendment that would allow limits to be set on campaign spending?"
Franklin & Marshall College Poll Newsletter
Join the newsletter to receive the latest updates in your inbox.